This is where your days begin and end, and where you frequently indulge in a moment of self care. It can be yours, the kids', or the visitors'. It just has to be practical and have a personality (and show it). Did you consider custom-made furniture? It makes all the difference in any bathroom.
Exclusive design
This is one of the advantages of creating your own bathroom furniture. It will not be the same as eveybody's. You will get what you want, how you want it, with the details you want.
For life
If having to remodel a bathroom sounds like a nightmare to you, relax. We use resistant materials, which remain impeccable, for a long time.
Practical but distinctive
Custom made allows you to decide exactly what is indispensable, useful or necessary in each bathroom and allows you to tailor it exactly to your own taste and whims.
Set up the music, the reading, the candles and the salts and… close the door. Make your bathroom a space where you can relax with serenity. With everything organized to take you out of your routine: where everything you need for your day to day life fits.
To enjoy, without stress.
Request quote
If you already have an idea of what you wish for and all you need is a customized quote, tell us all about it. All you have to do is gather the information about your project and fill out the form.
Details that matter. A lot.
Each bathroom is a world of its own, and there is a universe of choices to suit your requirements. Is it going to be your private oasis or for the whole family, just for the kids, or to receive guests? The criteria is yours, we take care of the details.
Wash-basin cabinets
Hanging, floor standing, discreet, surprising… Do you want a multifunctional piece of furniture, to welcome visitors or to match the decoration of the house?
Storage furniture
The idea is to organize and make the day to day easier. We create the right furniture, with drawers or compartments for toiletries, beauty products, towels, and even for separating laundry.
Shelves
Very practical to have next to the shower, bath, and for whatever you want to have on hand: towels, boxes, decoration, to create an apothecary or a zen nook, with candles and plants.
Accessories
Tell us what you have in mind and we will suggest suitable options. If needed, we also facilitate the integration of whatever you have already selected for your project.
Wide range of materials
We execute projects with high quality premium materials, using both national and international manufacturing. Come see for yourself in our stores.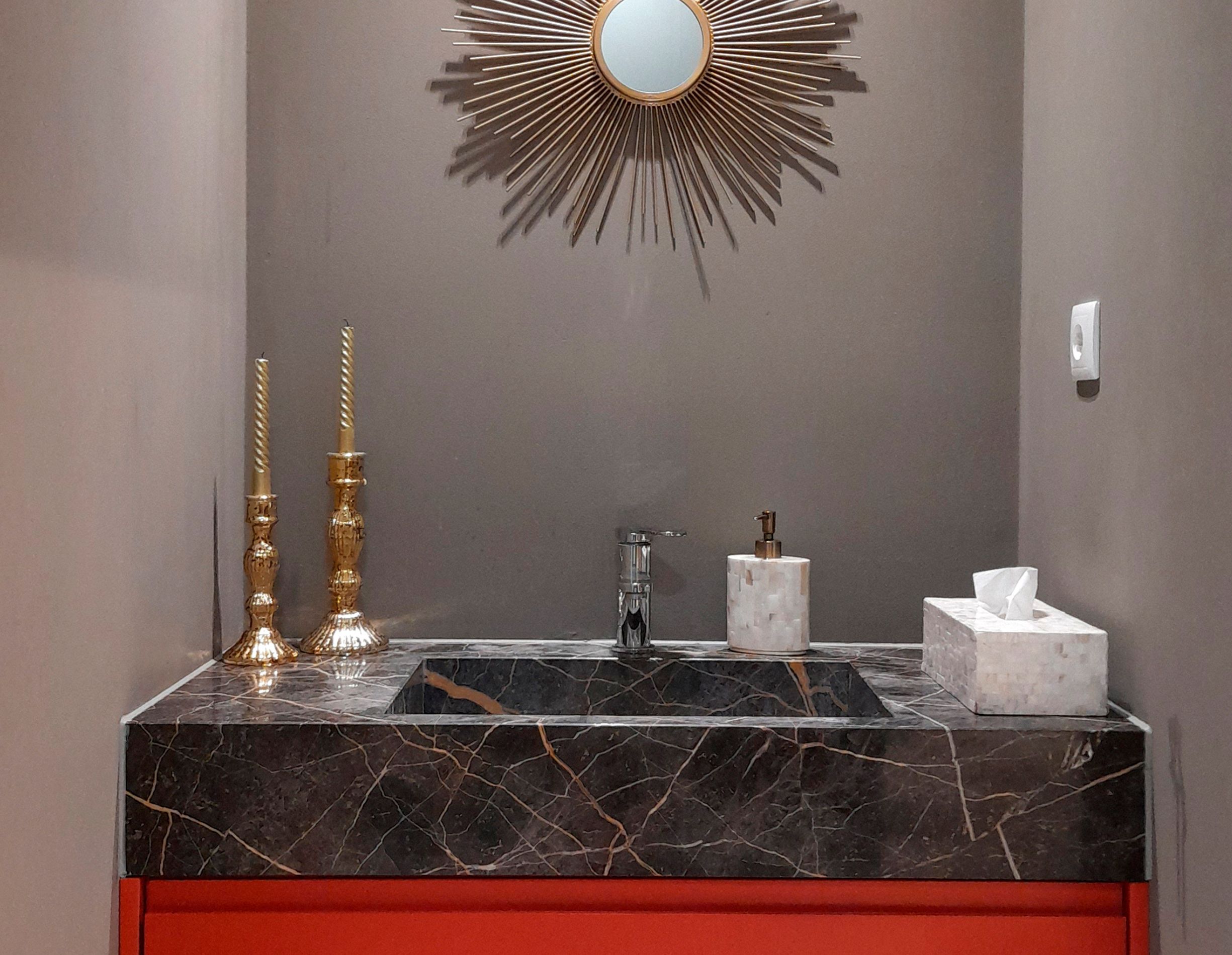 Wide range of finishes
Wood, glass, lacquered glossy or matte, smooth or textured. We have a large display to choose from. But bring your ideas.
Color Palette
Life is made of many colors, and we like to include the right ones in every project, from the most classic to the latest trends. Challenge us.
Countertops
In wood or in stone, lush or minimalist. We design your countertop in the material you choose, to mark the style you want to give to the room.
Are you an architect, a decorator, an interior designer, a construction or rehabilitation company? Talk to the STUDIO. Our office dedicated to professionals, offers personalized technical service, project design, exclusive solutions, and special conditions. We are here to make your idea happen.
FREQUENTLY-ASKED QUESTIONS
You may also be interested in
Feeling curious?
Come and visit us.
If you are looking for ideas, come take a closer look at the options available and get inspired by the décor displays in our showroom. Schedule a personalized visit to your nearest store and get advice from our team, in all tranquility and safety.
Book your prefered time.