It takes more than clothes
to make a closet.
Having everything in sight, in place and in order, is halfway to starting or ending each day the perfect way, right? And we know that clothes alone don't make a closet. That is why we optimize storage spaces with intelligent organization systems.
Made to fit
Like a good tailored suit, a good closet makes the most of any space and fits perfectly. Bedroom, stairwell or attic, what is the challenge?
Taylor made
The best thing about tailoring is having something designed to simplify your life. A design that fits you like a glove and meets your needs.
Smart display
We create intuitive and practical solutions so you can easily display, sort, and find what you need, as if you were in your own boutique. Of course.
Are you familiar with the more pragmatic version of our closets and closets? Ideal for less demanding spaces or simpler projects meant to be more agile.
But always with our essence: tailored design, premium finishes, and smart accessories.
Request quote
If you already have an idea of what you whist for and all you need is a customized quote, tell us all about it. All you have to do is gather the information about your project and fill out the form.
Different requirements. Flexible solutions.
It doesn't matter if your list is long and demanding. We have an answer for everything and alternatives. We design your custom closet, for any space, with your criteria and as far as your budget dictates. What is fundamental in your project?
Shoe racks
Do you dream of having all your shoes, boots, ankle boots, and sneakers, neatly organized and displayed? Make a wish, we fulfill it, and give you several options.
Luggage space
You can never have too much extra storage. We take advantage of all the space for those boxes, linens or travel bags that always end up in the closet.
Smart Accessories
From the pull-out mirror to the belt and tie holders, there are amazing solutions to optimize order and space. Do you know our revolving corner?
Lighting
If it is a requirement, you just have to put it on the list. We have integrated LED lighting systems that make it easy to see and access everything you need.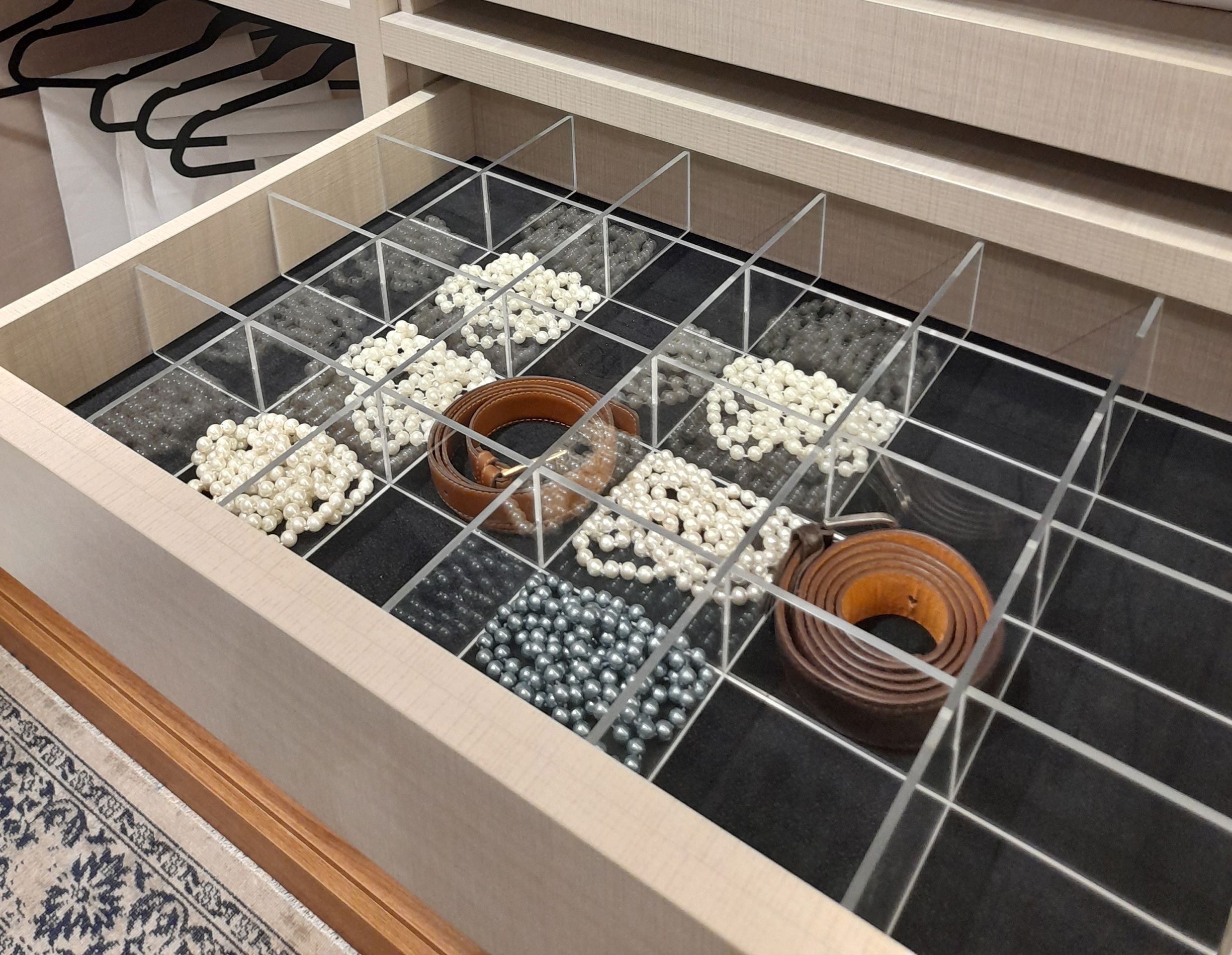 Drawers with dividers
The nice thing about custom design is that we can execute exactly what you have imagined. And the best thing about doing it with us is that there are no impossible ideas or measures.
Soft close
Both our opening and sliding doors, as well as our drawers, shelves, and retractable accessories excel in description. They slide and close smoothly and without noise.
Knobs
Both our opening and sliding doors, as well as our drawers, shelves, and retractable accessories excel in description. They slide and close smoothly and without noise.
Coatings
We think about your daily life, use, and durability, and we always recommend easy-to-clean materials that stay spotless for longer.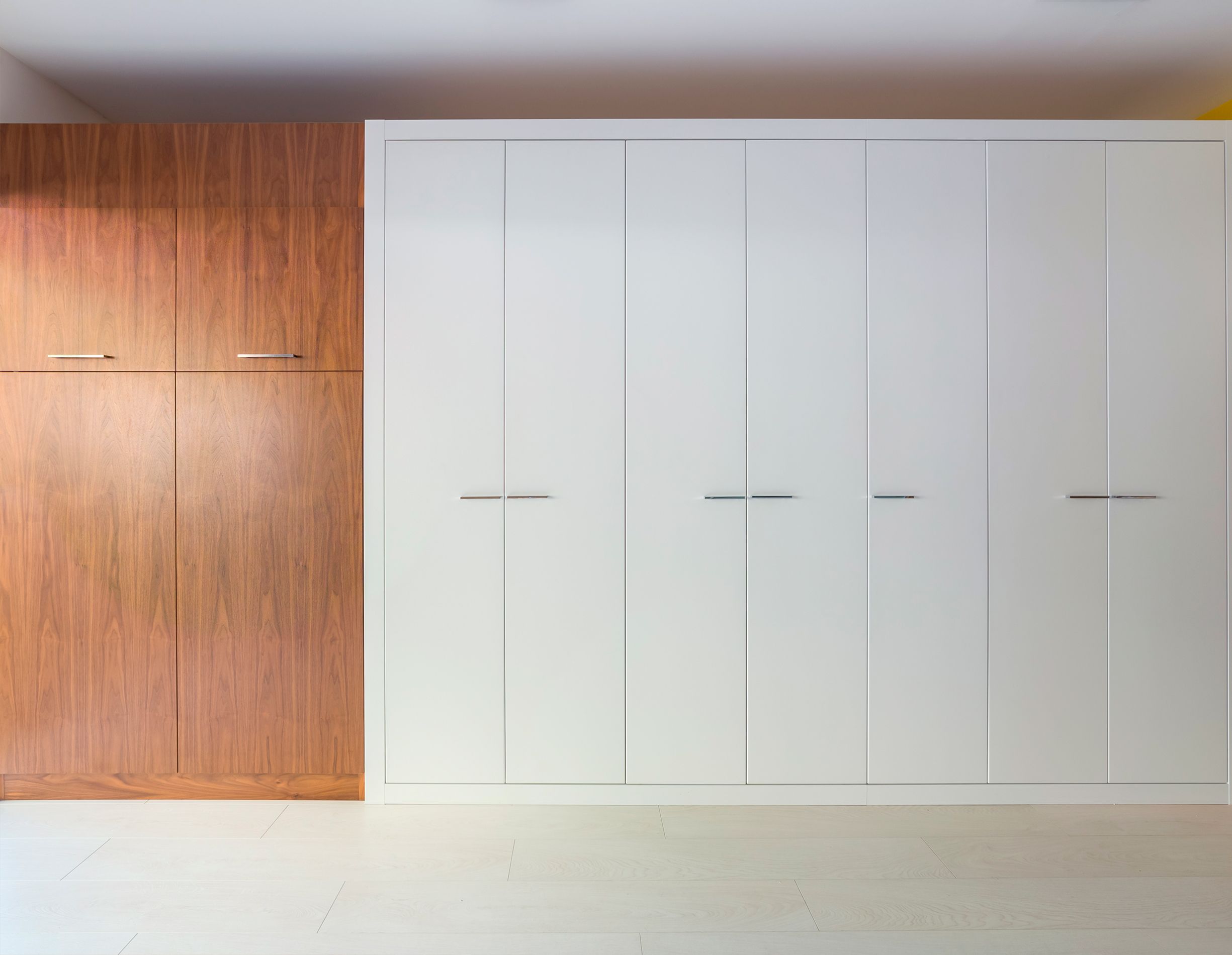 Wide range of materials
We execute projects with premium materials, high quality, national and international manufacturing. Come see for yourself in our stores.
Wide range of finishes
Metallic, matte, plain, printed, or textured. We have a large catalog but be sure to comment if you have a different idea.
Color Palette
Life is made of many colors, and we like to include the right colors in every project, from the most classic to the latest trends. See the showcase in the store.
Smart rods
The swinging rods take advantage of the height of the space and make it easy to access everything. The pull rods take advantage of shallower cabinets. Objective: to hang up as many clothes as possible.
Are you an architect, a decorator, an interior designer, a construction or rehabilitation company? Talk to the STUDIO. Our office dedicated to professionals, offers personalized technical service, project design, exclusive solutions, and special conditions. We are here to make your idea happen.
FREQUENTLY-ASKED QUESTIONS
You may also be interested in
Feeling curious?
Come visit us.
If you are looking for ideas, come take a closer look at the options available and get inspired by the decor displays in our showroom. Schedule a personalized visit to your nearest store and get advice from our team, in all tranquility and safety.
Book your prefered time.